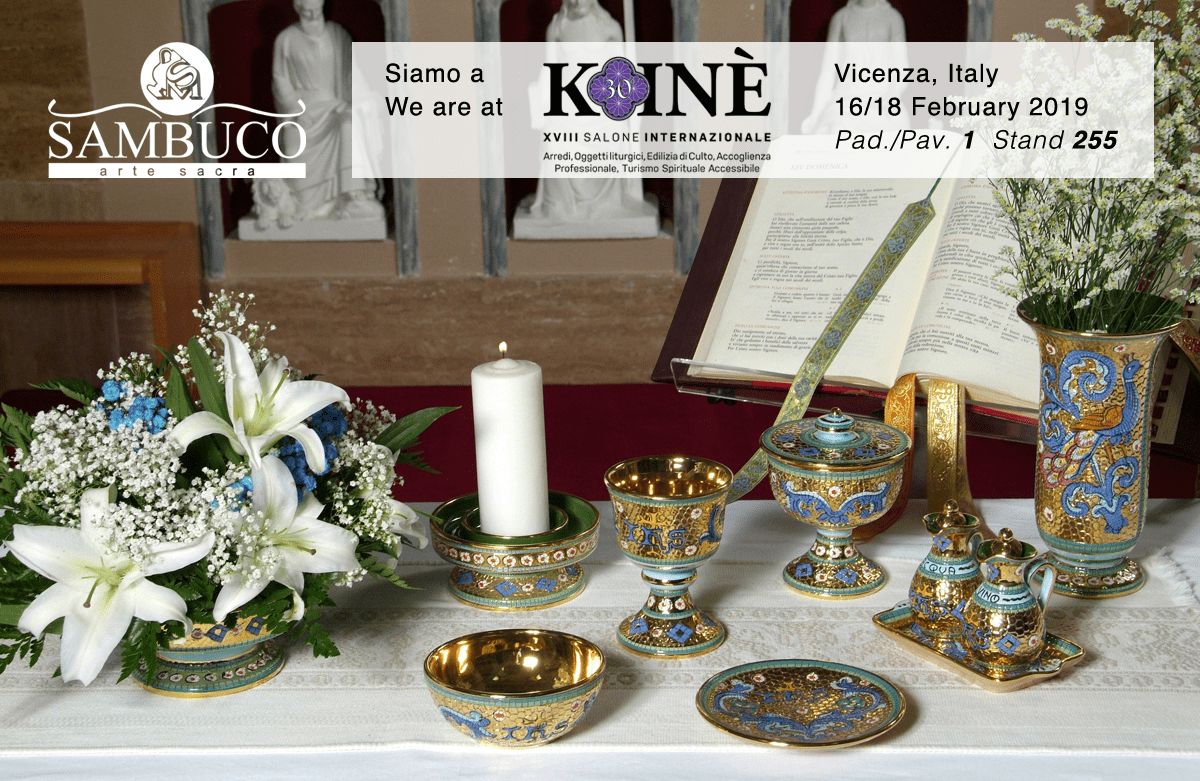 Sambuco Sacred Art
From the very beginning, from two generations,
Sambuco has dedicated special attention to the study and creation of liturgical pieces
that embody the characteristics of functionality, significance and the artistic aesthetics
dictated by the liturgical reform:
"…The Church has been particularly careful to see that sacred furnishings
should worthily and beautifully serve the dignity of worship,
and has admitted changes in materials, style and ornamentation
prompted by progress in the technical arts and with the passage of time."
(Sacrosanctum Concilium, 1963).
The same values were also expressed by the Supreme Pontiff John Paul II
in his encyclical letter entitled "Ecclesia de Eucharestia" written in 2003.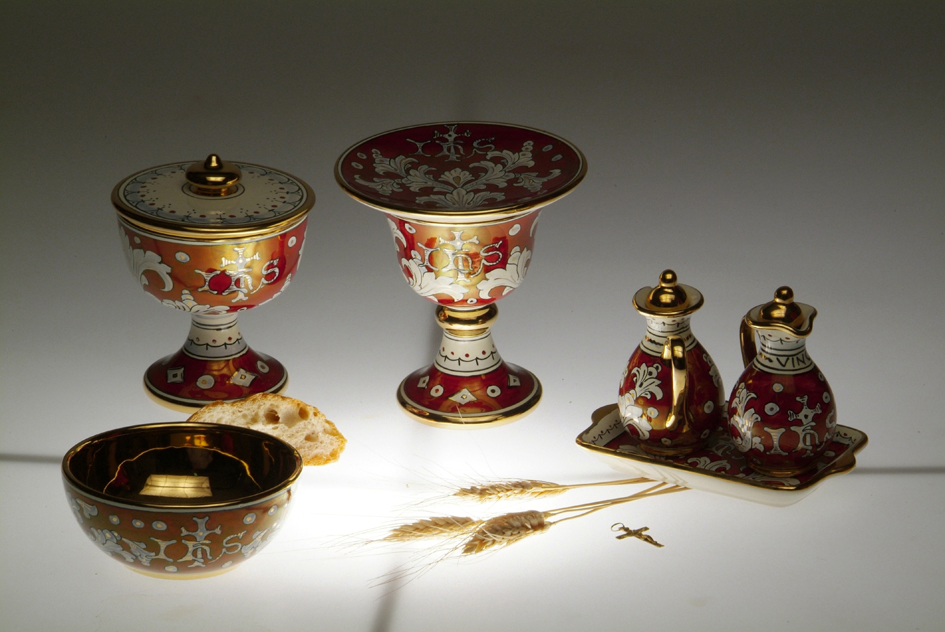 Today, Sambuco is the company in Deruta specialized in this field that is qualified to produce altar sets, baptismal fonts, holy water fonts and objects used for Christian celebrations in the most precious and refined shapes and decorations.
The high quality craftsmanship, along with the innovative design of its vast production, is directly inspired by the century-old ceramics tradition. A tradition that is also reflected in Sambuco's collections of floorings, plates, plaques, vases, bowls, votive tiles and paintings in the widest range of shapes and dimensions, featuring holy images depicting the Madonna with Child, Biblical images, symbols of the passion of Christ, saints and much more.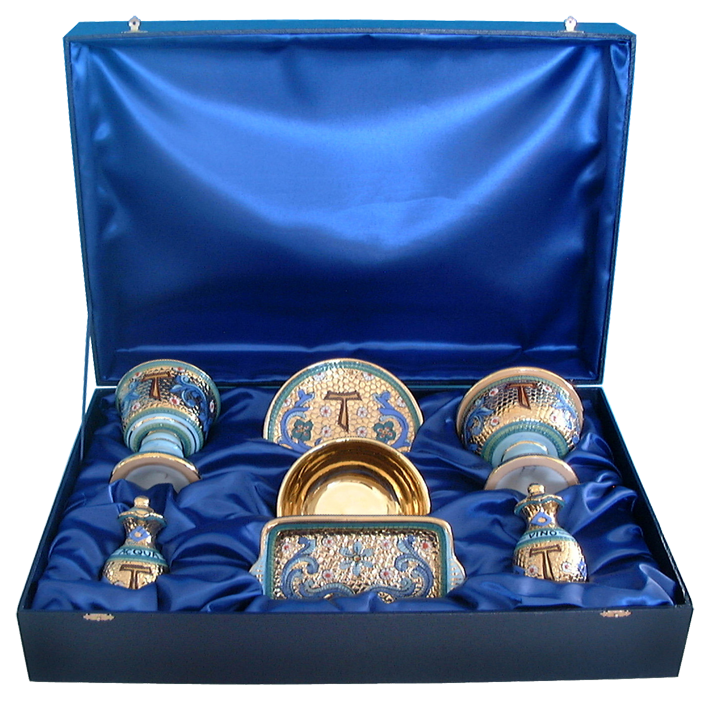 Special care and dedication is also taken in creating objects related to Franciscan symbols, from which Sambuco has also taken the "Tau" symbol, including it in a great number of its creations. This symbol was particularly dear to St. Francis, the patron saint of nearby Assisi.



The company can also satisfy any special requests from its clients and, thanks to its staff of highly skilled and experienced craftsmen, it offers the widest range of solutions in accordance with current regulations regarding quality and traditional craftsmanship, using highly qualified tools and resources to design and produce the pieces.



We welcome you to visit our online catalog where to see a part of our wide range of holy art products.

There are various sections dedicated to sacred art collections and shapes like chalices, pyxes, patens, cruets, communion patens, oil-lamps, holy-water-holders, candle-holders, candlesticks, gifts for Sacraments, special items for religious events, etc..

Please, contact us for any further information about our Company, products and general catalog. We are always at your disposal.




Sambuco Arte Sacra
+39 075 9711625 artesacra@sambuco.it



-------------------------------------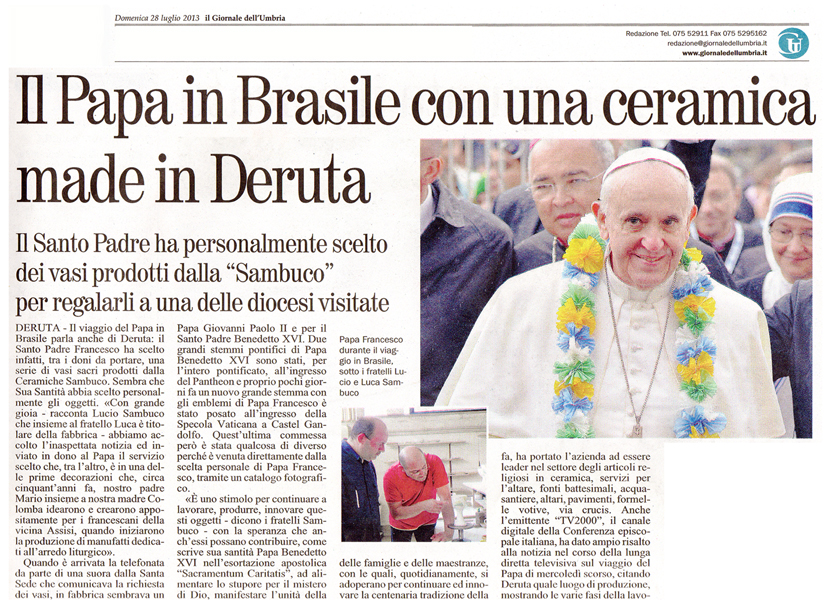 We are pleased to inform you that, in occasion of the trip to Brazil of July 2013, Holy Father Pope Francis chose among the gifts to bring there, our sacred vessels with the "Byzantine" style and the seal of the Franciscan TAU.


We want to especially thank all our customers who have contributed to the spread of these handicrafts and we hope that, also through them, as Holy Father Pope Benedict XVI says in his Apostolic Exhortation "Sacramentum Caritatis", …"they will foster awe for the mystery of God, manifest the unity of the faith and strengthen devotion".